Although Thornton Steward is a small expanse of water, racing can be challenging!

Racing
Racing News -

2022

Results

>>>

Thornton Steward Sailing Club

Getting launched:
Kickstart racing & Race Officer training
3rd, 10th, 17th April
3 weeks of practice races for all on Sundays combined with RO training, hosted
by Mark Meadows, Tony Merry and Trevor Bradley.
Grab your sailing bag, throw off the boat cover and learn (or re-learn) the ropes.
Never raced? A bit rusty? Looking for some help or advice about going faster,
staying upright, starts, tactics, rules? What do all those flags and sounds mean
anyway?
…..Or maybe you just want to get back on the water when others are around -
or just have a motivation to get out on the water! Then these sessions are for
you!
We're particularly keen for aspiring Race Officers (ROs) to join these early
season Kickstart sessions. With experienced racers on hand, it's the perfect opportunity to learn the art of
running a race - that vital Race Officer role.
The team will provide advice on managing a race including setting a course, starting and finishing the race
and calculating results, and you can practice all this on the day with their support. We'll need plenty of ROs
this year, so please join these sessions so you can volunteer with confidence.
There will also be 6 Skills development sessions in April – June. These are short morning or lunchtime
sessions wrapped around the racing of the day, facilitated by Mark, Trevor or Tony. Enabling peer-to-peer
coaching and support on a range of potential topics from boat handling, improving your starts to race rules
and tactics – whatever people want on the day.
TSSC racing 2022 – Ready, Steady, GO!
April marks the start of TSSC's race programme. We've got an exciting new offering this year of weekly
events, new series and a strong focus on getting more people involved and developing skills.
Racing is probably the best way to develop your sailing skills and at TSSC it's done in a fun, supportive
environment that welcomes newcomers. This year there's a much-expanded racing programme with
plenty of opportunities to join in, no matter what your level, experience, or time pressures.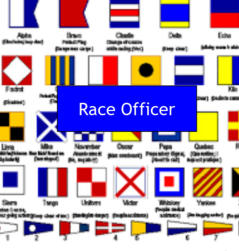 Under full sail: the racing programme
From 24th April
Racing will take place weekly on Wednesday evenings and Sundays (all day) from late April to October. A
range of different racing series and trophy days are scheduled; see the brief description below and
Racing
Programme
for dates and times.
Can't sail every Sunday? Don't worry, that's no barrier to taking part because you don't have to sail every race
in a series to qualify and get an overall result. The number of races to count in a series is 50% of the total
number of races sailed in the series e.g. 6 out of 12 (or if there is an odd number of races it is rounded up, so 7
out of 13). It's best to try and sail that number as a minimum, and if you manage any more then only your
better results will count towards your position overall in the series. If you can sail more than the qualifying
number that's an advantage, as you can discard/ignore your poorer results, but it's not essential.
Can only sail half a day on Sunday?
Sunday racing has largely been split into separate morning and afternoon series, so if you can only join for half
a day, you can still take part. The exceptions are the one-day trophy events (e.g., Commodore's Cup) and the
Autumn series (due to shorter day length).
There are only two trophy events for specific classes of boats, the Laser and Fusion trophies.
All other racing will use the 'Portsmouth Yardstick' (PY) handicap system to allow different classes of boats to
race against each other, so racing is open to most types of boat.
Results and trophies will be awarded at the Club's annual Prize Giving.
If in doubt please check the
Racing Programme
to ensure you know what's going on, and the Race Officer on
the day to make sure you understand the racing format. Unless specified, all racing starts at 11am and 2pm
promptly for morning and afternoon sessions.
Sundays:
Sprints
– 11 a.m. start, 1-4 short races run 'back-to-back', number to be decided by the RO on the day
depending on conditions. Overall position from each day's Sprints will count towards the Sprint series result.
Sunday morning series
(a.m.)
– will follow the Sprints. Single handicap race each morning.
Pursuit
– 60 minute race from 11 a.m. with staggered start times for different classes of boats depending on
their handicap rating (PY number) with slower boats starting first followed at intervals by all other dinghies
depending on their PY. The aim is to overtake all the boats that started before you while staying ahead of the
faster boats behind you; when the finish gun sounds after 60 minutes the order of boats on the water is the
finishing positions overall. In theory after 60-minutes, if all dinghies were sailed equally well, they would all
be together! This type of racing is ideal for newcomers to racing as it reduces the number of dinghies on the
start line at any one time.
Spring, Summer, Holiday series
- 2pm start, two handicap races each afternoon (may be run back-to-back).
Autumn series (all day) – two handicap races per day, starting at 11 a.m and 1 p.m.
Trophy days (from 11 a.m):
Bart's Bash - a charity worldwide handicap race raising funds for the
Andrew Simpson Foundation
Commodore's Cup – handicap racing with separate Adult and Junior trophies
Laser & Fusion Trophies – class trophies (other boat classes may join in the racing but not eligible
for any prizes!). **

Please note change of date to 18
th
September

**
Wednesdays:
Early Sunset Handicap and Late Sunset Handicap series
– two series consisting of a single handicap race each
evening, start times vary between 6 p.m. and 7 p.m. depending on daylight hours.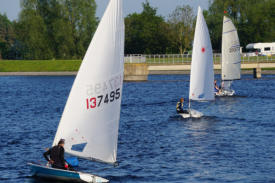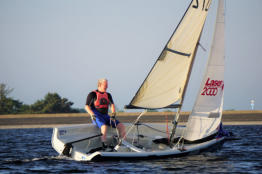 Click to display results in a window below